a
Recipes and wines:

Sicilian roulades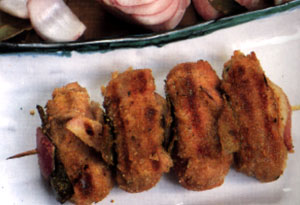 Ingredients for 6 persons: 600 gr of well beaten tender meat, two onions, laurel, breadcrumbs, 50 gr of pine-seeds, 50 gr of little sultanas, 100 gr of caciotta, ½ glass of oil.
Preparation: on each little slice of meat put some breadcrumbs, pine-seeds, little sultanas and roll them up carefully; put three roulades on each little spit, alternating them with a leaf of laurel and a slice of onion; pass on oil and roast on a grill.
Wine: red; Grapes: Nero d'Avola.