a
Recipes and wines:

Pasta with sardines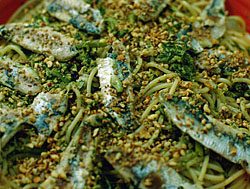 - 400 g maccheroncelli pasta - 1 sachets of saffron For the sauce: - 1 bunch of wild fennel - 1 onion - 2 dl olive oil - 100 g raisins and pine nuts - salt and pepper - 300 g fresh, boned sardines - fennel cooking water - breadcrums
In a saucepan, brown the onion in the oil, add the fillets and let them dissolve. Then add the raisins and pine nuts and brown for a minute. Boil the fennel separately in plenty of salted water, drain and chop finely with a sharp, pointed knife, reserving the water. Add the fennel to the sauce, cover with the fennel cooking water and bring to the boil for about five minutes. Finally, add the fresh sardines, correct the salt, add pepper and cook for a further five minutes. Bring the fennel cooking water to a boil again and cook the pasta with the saffron. Drain and mix with the sauce. Garnish the dish with a open sardine. Serve warm.
Wine: white; Grapes: Chardonnay.